Wax-type Actuator
Wax-type Actuator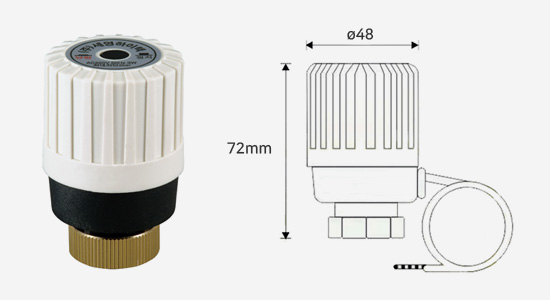 Specifications
| Classification | Contents |
| --- | --- |
| Rated Voltage | AC220V 60Hz |
| Power consumption | 3watt MAX |
| Open and closing time | 3~10 minute |
| Wire length | 1m |
NORMAL OPENING TYPE
NORMAL CLOSE TYPE
State of heating block
Power
ON
OFF
Electric Usage
Energy consumption is significant because the power supply is continuously supplied when blocking the heating
Because there is a lot of blocking time of heating for years, it can be saved compared to the original products
Indication Classification

: Heating
: Stop

: Heating
: Stop

Possible Complaint Issues
During moving and long-time absence, the electric breaker is turned OFF and heating valve is not closed, so excessive heating cost occurs.
Heating gets blocked during outage.
A. Outage is very unusual at APT.
B. Individual heating gets blocked during outage.
* Solution: During long-time outage, remove the actuator from valve.
Mini-type Wax Actuator
<Automatic/Manual On/Off> Function